There are many factors that are having a direct influence on architectural designs of today, including environmental concerns, use of materials and a more collaborative, people-centric approach to building projects.
Any architectural design project, no matter how large or small, commercial or residential, must move with the needs of today's and tomorrow's society, to create a well-functioning, aesthetically pleasing environment to live and work in.
Here's a look at the top architectural design trends that are making an impact in 2018 and beyond.
Breaking down boundaries
Regeneration projects in London are breaking down the boundaries of work and home by creating multifunctional spaces where professionals and families can work, play, relax and live. The strict boundaries of dividing housing, public areas and industrial areas are being replaced by flexible design solutions in our overcrowded capital.  
Community crowdfunding 
Community-driven and crowdfunding public projects are growing in popularity. The initiatives being taken by the community: from fund raising to input in the design project itself, have created successful outcomes that benefit the community, giving them a sense of identity, home and value. 
Crowdfunding projects not only allow the local community to have their say, but also provide opportunities for architects to focus on what the community as a whole wants rather than that of a single client.
Recyclable materials
Sourcing sustainable materials is essential in today's building projects. Even more environmentally friendly, is recycling and repurposing existing materials such as timber, aluminium, glass and plastic which can be used in building projects. Cost-friendly, time-saving and eco-friendly, this trend is set to grow in all aspects of design: from interior spaces to skyscraper projects.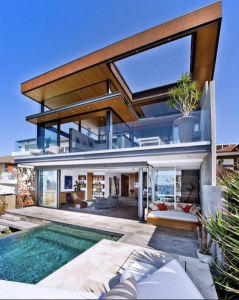 Outdoor living
Despite our unpredictable British weather, the growing trend of creating outdoor living spaces is set to continue in 2018. The traditional set up of a patio, tables, chairs and barbecue are being replaced by fully equipped outdoor kitchens with built-in units, integrated barbecues and multi-functional pizza ovens.
Outdoor living areas with sophisticated soft furnishings and a central fire pit are becoming more popular, and residential building designs now often feature garden rooms, verandas and covered patio areas to make the most of outdoor living areas in all weathers.
Smart Buildings
Innovation and technology have been progressively making their way into our everyday lives, both at home and at work. From heating and lighting, to sound systems and smart appliances, remotely controlled smart systems are fast becoming essential features that architects need to include in their designs.
These technological features are not just a gimmick to make life more comfortable. Effective use of smart technology helps make buildings more energy efficient, enabling us to control room temperatures and improve the efficiency of our lighting systems, which inevitably helps to reduce our carbon footprint.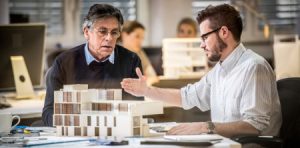 Collaboration  
Finally 2018 will see the growing trend for collaboration; a team approach between all professionals involved in every stage of the project as well client input and collaboration to ensure a smoother flowing process and successful outcome.
For more information on KTA's award-winning commercial and residential projects and services in Brighton and London, contact us today.